Trips for Kids Taos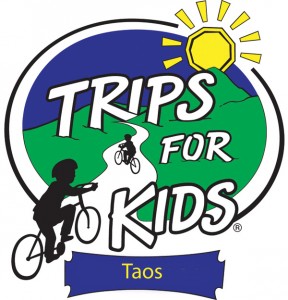 Trips for Kids TAOS is a member of Trips for Kids® International  www.tripsforkids.org/ a 501(c)3 nonprofit organization based in Marin County, California. Founded in 1988 and now operating in over 80 locations throughout the United States, Canada and Israel, Trips for Kids (TFK®)  International has opened the world of cycling to over 100,000 at-risk youth through guided mountain bike rides and job training/earn-a-bike programs.  All TFK chapters, modeled on the foundation of the original TFK Marin program, are managed and operated independently at the local level but share a common goal. Their mission is to use bicycles as a vehicle for lessons in confidence building, achievement, health, fitness and environmental awareness through the development of practical skills and the simple act of having fun.
We would not be able to do the work we do without the generous support of our Trips for Kids International Sponsors www.tripsforkids.org/national/sponsors.htm and are proud to be working in partnership with these companies. Please join us in saying thank you by patronizing their business whenever possible.
Visit TripforKids.org for complete details about the national program.
Trips for Kids TAOS provides opportunities for outdoor exploration and education using bicycles to open these doors. Through bicycle rodeos, ride programs and more, we share our passion for seeing the world from the magical perspective of riding a bike. The process includes emotional growth, expanding horizons, encouraging curiosity, building team, gaining confidence and having fun. Please contact us for details on upcoming programs and events.