Trips for Kids Taos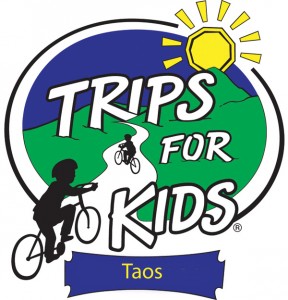 Trips for Kids Taos is a program of Field Institute of Taos, a recognized affiliate of Trips for Kids ®, a 501(c)3 California nonprofit corporation. Trips for Kids was founded in 1988 and now operates in over 75 locations throughout the United States and Canada. As an affiliate, we embrace the Trip for Kids mission: to provide transformative cycling experiences through a network of chapters that promote healthy, recreational lifestyles, environmental awareness, and personal empowerment for young people of all communities, especially those most in need. Trips for Kids Taos currently operates: Trail Rides Programs and Mobile Bike Clinics for our local community. These programs aim to build self-esteem, inspire healthy lifestyles and instill environmental values.
We would not be able to give deserving youth transformative cycling experiences without the generous support of our major sponsors. We are proud to be working in partnership with these supportive businesses and individuals. Please join us in saying thank you by patronizing these businesses whenever possible.
Trips for Kids Taos provides opportunities for outdoor exploration and education using bicycles to open these doors. Through bicycle rodeos, ride programs and more, we share our passion for seeing the world from the magical perspective of riding a bike. The process includes emotional growth, expanding horizons, encouraging curiosity,
building team, gaining confidence and having fun.
Please contact us at programs@fitaos.org for more information,
details on upcoming programs and events,
or to schedule a group ride or bike rodeo with your group!