Staff Bios
Loren Bell
Mountain Bike Coach and Lead Instructor
Loren's love of riding bikes borders on obsession. When he's not spending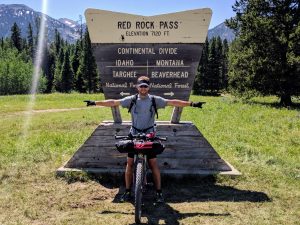 long hours in the saddle exploring the trails and two-track of northern New Mexico and southern Colorado, he's thinking about the next big adventure. Whether he's on mile 70 of an epic endurance race, or day 7 of riding the Continental Divide, Loren is most at peace during what he calls, "spinning meditation." He is stoked to be sharing this passion with the next generation – adding to a long history of inspiring kids to get outside. Previously, he has taught outdoor education to inner-city fifth graders and coaxed high school crews into building wilderness bridges with only hand tools and willpower. When the snow gets too deep to ride, Loren serves as a Pro Ski Patroller at Taos Ski Valley, and fills his remaining free time with journalism and occasionally writing guidebooks.
Sean Cassily
Assistant Director, Lead Instructor, Mountain Bike Coach, and Logistics Guy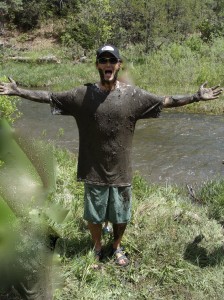 Sean Cassily grew up in the rural mountains of northern New Hampshire where he developed a love for everything outdoors. He has worked for FIT since 2002 and has coached alpine skiing since 2003. In both jobs Sean enjoys connecting youth to our natural world by engaging youth in lifelong activities that are fun.
In 1996 Sean moved to Taos and was intrigued by the dramatically different ecosystems that exist in Northern New Mexico. Sean began to learn about the local Taos eco-systems and was fascinated by the differences from the woods of the East Coast. He realized that sharing his love for the outdoors and sharing his curiosity about the natural world was a path worth following. He began working with FIT in 2002 and has been an integral part of the team ever since. His role within FIT has grown as has his love of sharing his love of adventure with young people.
Sean has a degree from St. Michael's College in Vermont and is a certified Wilderness First Responder.

Susie Fiore
Founder, Executive Director, Lead Instructor, Mountain Bike Coach, and Chief Bottle Washer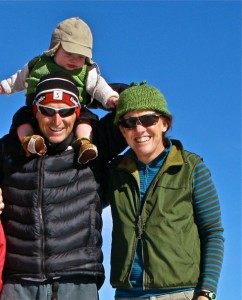 Susie founded Field Institute of Taos out of a strong desire to combine her love of the outdoors, natural sciences, and working with youth and share this magical combination with the community. Raised in California in a large family that spent a lot of time camping and exploring, she has always felt happy, energized, and challenged outdoors. On family camping trips as a child, her favorite activity was washing rocks in any accommodating creek and building tiny houses of mud and sticks. After graduating from Colorado College where Susie thrived on the experiential style of field courses, especially in archeology and geology, and working for the college for 2 years, she made the move to Taos (in 1989).
After seven years splitting her seasons between working as an archeologist for the Forest Service and a supervisor in the children's ski school, the dream of Field Institute of Taos became a reality. In 1996, Field Institute of Taos was founded and a new, exciting journey began. It has been her role to grow the programming, cultivate donors and increase the capacity of FIT to reach more youth.
When she isn't in the field with kids hiking and biking or in the office keeping up on administrative duties, planning, and scheming, Susie spends time skiing, camping, mountain biking, traveling, and going on as many adventures as possible (both big and small) with her family. Seeing the world through her son's eyes brought new magic and watching him grow up in FIT has been incredible. She thrives on this lifestyle where her world adapts with the changing seasons. Over the years, Susie has also been found teaching spinning and ski conditioning classes and personal training at a local gym as well as working in a local ski shop.
Susie is a certified Wilderness First Responder.

Cass Landrum
School, Community Programs, and EdVenture Coordinator and Lead Instructor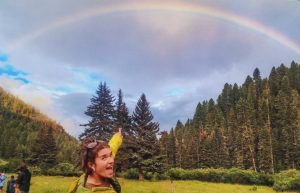 Cass is a native Texan with over a decade of outdoor education experience. She graduated from Purchase, NY with a degree in Environmental Studies. Her senior project was a collaborative nature play about the life of a tree, written by kindergartners. In six years, she moved 16 times to five states across four time zones, teaching environmental education in various biomes along the way.
Cass has a passion for flora and has been a naturalist in New Mexico since 2013. In 2014 she settled into an Open Space in Albuquerque where she was the caretaker and full-time nature observer, while directing expeditions at a local nonprofit. After leading exactly 100 trips, she broke ties with Albuquerque and moved to Valdez, NM where she is now a home-owner. She is also one of less than a dozen Certified Environmental Educators in New Mexico through the Environmental Education Association of New Mexico.
Cass has a passion for plant identification, a compulsion for organization, and a small obsession with camo-colors. She estimates to have taught, guided, belayed, and/or played with over 4,000 children.
Fun Facts:
Cass's favorite toy growing up was a white board.
She spent Friday nights in college looking for the best use of a semi-colon in the literature section of the library.
She owns the entire collection of Gilligan's Island episodes.
Malia Reeves
Program Coordinator, Lead Instructor, and Mountain Bike Coach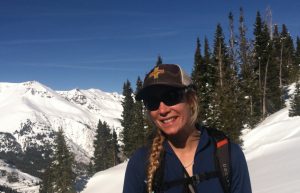 Malia is a native Taos local who grew up playing outside in these beautiful mountains. After leaving home early to complete her high school education at an international boarding school in Wales, UK, she attended Dartmouth College in New Hampshire. When she arrived at Dartmouth, she became actively involved in the Dartmouth Outing Club. Before she knew it, she was a college certified leader in rock climbing, mountain biking, and backcountry skiing. Malia moved home to Taos after graduating with a degree in Fine Arts. She has since thrived on the seasonal existence of working winters as a Ski Patroller at Taos Ski Valley, summers guiding teen outdoor adventure trips all over the world, and the off seasons creating and exhibiting her artwork. Malia's continuing passion for outdoor education stems from her love for sharing with others the beauty and exhilaration of being outside.

Liana Sonne
Special Projects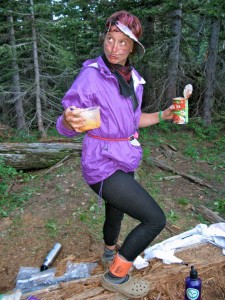 As a young'un, Liana grew up camping in the deserts and mountains of the Southwest US, living some years in a pop-up camper or truck travelling the country with her family. Liana fell in love with everything from ocean animals to desert plants. She began working at fifteen with wildlife in need of rehabilitation, soon thereafter working with tigers at a Conservation Facility. She ventured into the fields of Environmental Education and Sustainable Agriculture. Liana has generated lessons and curricula that have made for an abundance of experiential learning opportunities to youth across the country.
Liana's work experience is extensive, her depth and breadth of knowledge is astounding and her energy level is high. Past work has included Nature's Classroom Institute, Desert Discovery Center, Siberian Tiger Conservation Association, Audubon Raptor Center, Ohio Wildlife Center, Savannah Urban Garden, Windspirit Ecovillage, EarthCare and Cho Ku Rei Ranch.
Having studied ecology and environmental education at the masters and undergraduate level, Liana persists in investigating every subject from lichens to pegacorns to sociobiology. Fun facts: derby daredevil, avid cyclist who prefers a bike over a car, huge fan of exploration, loves rock climbing, growing food, dancing, backpacking, river play and all things outdoors.
After spending 10 fabulous years working as the School, EdVenture, and Community Outreach Coordinator as well as a Lead Instructor, Liana is pursuing other avenues for growth. She leaves FIT in a much better position directly as a result of her tireless, creative, determined work with a focus on making a difference for all youth in our community. While we will miss her energy and expertise greatly, we are lucky to know she will still work with us as a contractor on special projects.
Stephanie Vigil
Director of FIT Neighborhood Camp

Stephanie grew up living everywhere from Kentucky, Arizona, California, Texas, New Mexico, and a few more in between. She graduated with honors in 2001 from Taos High and put down roots here. Taos always felt like home to her and was the place her family always came back to.
Many of her moves were due to her families art gallery business and summer volunteer work with the Forest Service doing archeology. Stephanie participated in various projects and helped on archeological digs in Northern California and Montana. With her love for the outdoors and kids, Stephanie joined Rocky Mountain Youth Corp to tutor and mentor youth, emphasizing teamwork and homework skills. She also worked on a forest trail maintenance crew. She loved working outside and benefited from the team building and leadership skills she developed.
After graduating Stephanie was a nanny for several families. During this time she also started a home-based playgroup for infants and toddlers, which she ran for 10 + years. For the past 13 years, Stephanie has been very happy as the head of the after school program and a substitute teacher at Anansi Charter School. She loves the challenge, creativity, and rewarding work this job allows her.
As a new mother to her daughter Hailey, Stephanie has a whole new appreciation and perspective on life and for her work. She understands the trust people place in her to take care of their most precious parts of their life and is so humbled by that. Stephanie is constantly amazed by her daughter and the wonderful kids she works with. She loves the way they view the world, make her laugh, and always end up teaching her something new everyday!
Sophia Moser

Program Coordinator and Lead Instructor
Sophia was born and raised in New Hampshire where from a young age she felt deeply connected to the mountains, lakes, and the natural beauty of the region. Raised in a family that was always stressing the importance of health, activity, and the outdoors, her childhood was packed with outdoor activities and adventures throughout all the seasons. Freestyle skiing in the winter followed by backpacking and hiking trips in the summer, and mountain biking into the fall. Sophia moved to Portland, Oregon in 2010 for college where she studied English Literature and Creative Writing at Lewis and Clark. She lived there for 6 years exploring and adventuring the great pacific northwest region, during which she also began working with children with an interest in early childhood education. She has worked at multiple preschools over the years as well as outdoor education programs and camps for kids.  She has worked at the Seacoast Science Center in Odiorne Point in Rye, NH and as a Waldorf teacher at nursery school in Portland. In her free time, Sophia loves to ski, read, run, hike, and travel (rarely without her side-kick, her golden retriever Stella), take photographs, play the banjo, cook, dance, listen to live music, and spend time with her family.
AimeeLynn Stearns

Community Programs and Lead Instructor 
Aimee Lynn was born and raised in Taos, NM and has been a part of FIT since she was a young camper. She worked as a CIT and Junior Counselor for FIT for several summers. She loves to share in the magic of curiosity with young people while out playing and learning in the mountains. Aimee Lynn has a passion for nurturing awareness, sense of wonder and engagement and knows how important this is for the health of our families, friends, and communities.
Being a part of FIT has allowed Aimee Lynn to cultivate her interest in human development, experiential learning, and mentorship. Growing up in the mountains has helped her develop a spirit of adventure and appreciation of beauty and excellence. She is also interested in literature, art and culture, and well-being studies and loves to read, write, paint, ski and hike. Aimee Lynn has a BA in Psychology and English from the University of New Mexico and is certified in Wilderness Advanced First Aid and CPR.
Germaine Bartlett-Graff –
 Forever on our Team

Community Programs and Lead Instructor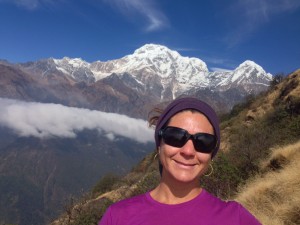 As a Taos native, Germaine's love for the mountains, rivers and cultures that depend on them, began early in life. She began her work as an outdoor and experiential educator in 2007 leading outdoor and environmental education programs with the Field Institute of Taos, Naturalists at Large and was the Nepal Course Director for experiential study abroad programs with Where There Be Dragons seasonally.
When not working in the mountains, Germaine spent her free playing in them, skiing, rafting, hiking and forever learning from the wonders of the natural world. From the mountains and rivers of the southwestern United States to the Nepal and Indian Himalayas, Germaine was always inspired by the natural environment.
With a passion for teaching young people and playing in the mountains with them, Germaine provided many students with the opportunity to learn about the natural world and environmental issues with greater depth and understanding, which in turn enabled them to cultivate a greater awareness of themselves and the world in which they live.
Germaine earned a BA in Religious Studies and Psychology from the University of Colorado in Boulder and was Wilderness First Responder. She earned her Masters in Social Work in 2020.